Tim's Blog
January 7, 2023
Last week, Peter Leithart of the Theopolis Institute interviewed me in connection with my book, Exchanging the Glory: Idolatry and Homosexuality in Romans 1 (2022 Athanasius Press, Theopolis Explorations series). This interview is available on these podcast platforms:
Spotify — https://open.spotify.com/episode/2kXl2sk5UG6nuLOFVzYaYy
Apple — https://podcasts.apple.com/us/podcast/the-theopolis-podcast/id1148175126?i=1000592768187
SoundCloud — https://soundcloud.com/user-812874628/episode-607-idolatry-and-homosexuality-with-tim-gallant
November 21, 2022
For those who hadn't noticed, I have started making short videos explaining various things about worship, the Bible, Christian discipleship, and so on. These are posted on YouTube, Rumble etc. I have now also added a video page to my web site where they're all collected in one place.
August 29, 2022
As I've noted earlier, I am slated to teach an online class (via Zoom) for Theopolis this fall.
The title of this class is Infancy and Maturity in the Messiah's Kingdom.
Here is some of what I hope to cover:
The Vocation & Pathway of Maturity
Epochs & Ages
Growth Models & Apocalyptic Maturity
The Great Infancy: Kingdom as New Birth
Unexpected Infancy in Maturity
Of Such is the Kingdom: Infant Inclusion
My goal in part is to help students see familiar biblical passages in a new light that shows how various apparently unrelated things actually belong together.
You can now sign up for this class. Theopolis has a registration page here.
January 1, 2017
So another year has fled. The biggest event in 2016 for me was the passing of my mother in June. She was less than two months shy of her 90th birthday, and had not had a full awareness of things for several years, but nonetheless we felt great loss. But though we mourn, we do not do so as those who have no hope.
That passing did provide the context for one of the high points of my year, too. When I went home to Grande Prairie to bury Mom, through the kindness of the Nashville and Grande Prairie churches I was able to take my wife, oldest daughter, and three littles, and we had a time of great blessing. We drew heavily on the love of the saints and had a wonderful time with my sister and her two kids as well.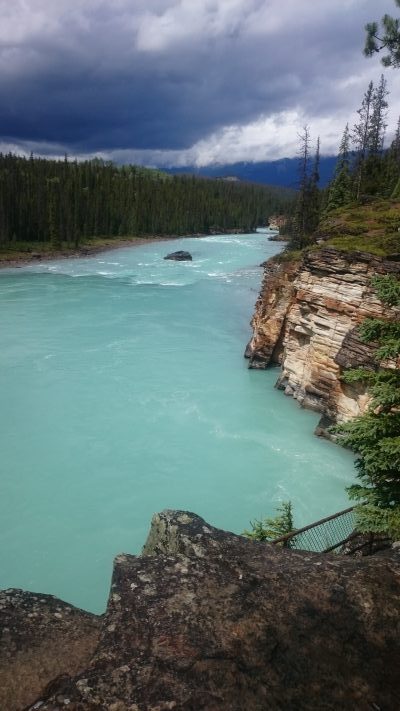 A mini high point of the Grande Prairie visit was a day trip with them, the Wattels (who were our hosts) and "Oma B" to the Jasper area. Although I have traveled through Jasper many times over the course of my life, I had never taken the time to stop and just enjoy it, and I always wanted to take Kristi there. So much beauty—I think I took about 150 pictures—and it was so good to share it.
Another high point of my year was the completion and release of The Legend of the Dagger Prince, a novel that I had first envisioned and commenced in 2012. While it has not been a big seller, I can honestly say that I'm very pleased with how it turned out, and hope that over time more people will come to appreciate it.
In October, I got to take Kristi to the Ryman (the original Opry venue) for a Kansas concert. It's not the sort of thing I get to do often at all, and we both really enjoyed it. It was the 40th Anniversary tour of Kansas' Leftoverture album, as well as the first tour for their new album. While Steve Walsh retired a few years ago, the new vocalist, Ronnie Platt, was an excellent choice: he's the right generation and has the right range, but his timbre and phrasing is different, so he avoids the trap of imitation.
Work-wise, I continue to work in the hospitality industry as a valet captain and am supposed to commence managerial training soon. I also continue to maintain my web and graphic business, Tim Gallant Creative; my biggest project in 2016 was the revamp of the CREC denominational web site.
Another even bigger web project, albeit not for a client, was the launch of the News Mutt site in early November. It was an idea I had toyed with for several years, and a slow patch with clients allowed me to give it a shot. It's a tremendous amount of work to maintain, so I really need to build a good sized readership in order for the site to be viable long term, but I think there's room for the niche: It's a general news site that focuses on easy-to-read short summaries, and also keys on matters of interest to Christians. I'm trying to provide something that has a sound approach to news while also questioning mainstream media where I think it's appropriate.
I also engage in preaching ministry when opportunity presents. Along with preaching at the wedding of Caleb and Lydia Strebchuk in Grande Prairie at the beginning of the year, and then again at the G. P. church when I returned for Mom's funeral, I have preached several times at my home church in south Nashville, as well as a small Christian Reformed Church nearby.
Please continue to pray for all of us, that Kristi and I would meet the challenges of faithfully raising our large family, that all of our needs would be supplied, and that in particular, somehow we could improve our housing situation. (We had been hoping to buy this past spring, but my U.S. credit rating had not been sufficiently built up. I had a very good rating in Canada, but unfortunately, that doesn't follow across the border, which I didn't realize for the first couple years I was here.)
December 16, 2016
UPDATE: I got back into Facebook on December 20. No real explanation that made sense was provided regarding the issue.
Just a quick note for those who follow me on Facebook: My Facebook account has been disabled/blocked to me since December 12. The ostensible reason is that they could not verify that I was using my genuine identity, or had multiple accounts. (Neither are true.)
The instructions indicated that I should upload a scan of a government-issued photo ID with the sensitive information (ID number and address) blocked out. I did that, but it's been four days and I am still blocked until they have "reviewed my ID." It seems odd that it takes them that long to look at a photo of a driver's license.
While my Facebook account uses my personal identity, I do use a pseudonym (Anderson Alexander) on News Mutt, although that really has nothing to do with my Facebook identity, and in any case, I identify myself by name on the Anderson Alexander page on the site.
November 5, 2016
I'm excited to announce that today I launched a news digest site called News Mutt. The idea was a long time coming; in fact, I had registered a different domain several years ago.
The concept of News Mutt grew from a combination of inspiration from and frustration with other news sites. Unlike Drudge Report, I wanted something more balanced and offering actual story summaries rather than just links. Most other non-mainstream sites are too sensationalistic, and of course the mainstream news media reflects a very heavy leftward bias.
Consequently, I developed a vision to build a site that would appeal to people with limited time, but whose interests included looking at things from a historically Christian faith perspective and the love of liberty.
Due to the extreme ongoing time commitment of this project, the site will be monetized by ads, but I'm trying to maintain a good balance so that they are not overly intrusive.
It should be noted that at this point the publisher name in News Mutt's footer is Anderson Alexander. I chose a pseudonym (basically, a "pen name"), not because I want to remain anonymous (I'm advertising here that it's me, after all), but because I also write biblical studies/theology as well as fiction. Using another name helps me separate the "brands": my main stuff is published under Tim Gallant, fiction under T. A. Gallant, and now the journalistic stuff under Anderson Alexander. I'm not entirely sure if I'll stick with that, but we'll see how it goes.
For what it's worth, I chose Anderson Alexander because Anderson was my Dad's biological father's last name; Alexander was my Mom's maiden name.
April 8, 2016
I posted about the release of The Legend of the Dagger Prince a few hours ago.
Here's the book trailer.
This book is the first occasion I've had (or taken, at any rate) to do a book trailer, and I think it turned out pretty well!
April 7, 2016
Book launch! My first title in the medievalesque fantasy series Annals of Adamah is called The Legend of the Dagger Prince. It just released!
Buy it on Amazon ( http://www.amazon.com/dp/0997244704 ) or elsewhere online, or check out more details here:
http://timotheospress.com (Be sure to sign up for my email list while you're there!)
October 16, 2014
Wondering what to buy your biblically-studies inclined friends or relatives for Christmas? My books on Galatians are both on sale via my Amazon store:
Paul's Travail (my commentary on Galatians) is reduced to $17.95 plus shipping. (Regular retail: $24.95)
Sermons on Galatians (35 sermons) is reduced to $7.95 plus shipping. (Regular retail: 14.95. Note that the version I ship at this price has the previous blue version of the cover. Everything else is the same.)
All my other titles are also on sale … check them out!
All sales run through November 15.
June 18, 2014
This weekend's conference on Galatians was announced some time ago, including details of the various regular conference sessions. In addition to the sessions, I will also be preaching and leading Sunday School on Sunday morning.
The sermon will be on Galatians 3:28–29, and titled "How to Dress Like the Grown-Up."
The Sunday School session will reach beyond Galatians into a wider discussion of "Good Works in the Christian Life"—a subject matter raised by almost any interpretation of the letter.
The conference does not require advance registration, but for address and full details, check out the host church's own site.