Blog
In Romans, Paul has an extended development of the idea of slavery and liberation—fundamentally, an exodus theme. In the midst of that development, he writes in Romans 8:12 that we are debtors—not to the flesh, to live after the flesh.
That cryptic statement in context raises questions. Is this is a simple negation ("we are not debtors to the flesh"), a denial with an unspoken corresponding affirmation of where our debt genuinely rests ("we are not debtors to the flesh, but to the Spirit"), or perhaps an emphatic statement about a new situation that was previously not the case ("we are no longer debtors to the flesh")?
Perhaps Paul doesn't want us to answer the implicit question in just one of these ways; perhaps he wants us to acknowledge the truth of some or all of these ways of reading his statement.
It is interesting, though, to trace the idea of debtorship in connection with Paul's theme of slavery. Under the social and de facto legal conditions of Paul's world and Israel's history, one could be sold into slavery for one's debts, and was therefore bound to serve the creditor. That seems to shed some light on Paul's argument in much of Romans 5–8, not least 6–7. (more…)
Wright suggests that in Romans 6, "righteousness" (dikaiosune) is a virtual proxy for God himself. In extensive use in chapter 3, "the righteousness of God" (dikaiosone theou) refers to God's covenant faithfulness, and much of Romans 3–8 has an underlying narrative substructure of exodus—a transition from slavery to freedom. But then, 6:18 speaks of "slaves of righteousness." Here's Wright: (more…)
In his article, "Romans and the Theology of Paul" (reprinted most recently in Pauline Perspectives), N. T. Wright emphasizes that the narrative of Paul's letter to the Romans is keyed to the story of Israel, seen within the light of Jesus as the Messiah. This is a crucial point that is often overlooked, but in a number of places, I think he takes wrong turns or doesn't quite get the grasp of the handle in the right place.
For example, in regard to Israel's "fall" of which Paul speaks, Wright frequently notes that Israel was called to be a light to the nations and she failed, largely because of pride in covenantal position.
It has been quite popular for some time now for people to engage in moral/ethical argument on the basis of what year it is ("It's 2017.…") or its sister argument ("the flow of history/right side of history").
I haven't decided whether such people really don't realize how stupid the form of argument is, or whether they actually do, but are so cynical they use it anyway. It doesn't seem nice to impute that level of obtuseness, but on the other hand, it's not exactly complementary to impute that level of cynicism either.
If you want to see how frivolous the form of argument is, simply use it with reference to mindsets and attitudes in the past which we now denigrate. For example, the early twentieth century had an extraordinarily high regard for race-based eugenics, not only in Germany, but (sad to say) in much of the West, including the "free democracies," especially among the intelligentsia. (Of course, this is now largely swept under the carpet.) (more…)
As I've planned for quite a while, I have finally made my Tim Gallant Anthology songs available for free download on this site.
These are collections that I recorded back in the mid-2000s, but were written much earlier. I used to (try to) sell them, but ultimately decided that music was never going to be an income stream, and I would much rather have the occasional person enjoy some of it than to have the songs collecting dust.
The present anthologies available are Vol 1: 1980–1983 (The Early Years); Vol 2 (1984); and Vol 3 (1985). I was born at the end of 1965, so you can do the math regarding my age when the songs were written. 🙂
When we correlate Genesis 15, Genesis 22, Romans 4, and James 2, we will come to understand that there is no tension whatsoever between Paul's view of faith and works over against that of James. Both appeal to how Abraham's faith in Genesis 15 is accounted for righteousness, but both in fact go beyond that.
Like Paul, James affirms that Abraham's faith in Yahweh's promise was counted as righteousness (i.e. in Genesis 15, when God made the initial promise of seed). He affirms that within the framework of stating that Abraham was justified by works when he offered up Isaac on the altar (Gen 22, frequently referred to as the akedah). The point he makes is that the faith of Abraham (which Yahweh counted as righteousness) was active, and that it was completed by action. The offering of Isaac, says James, fulfilled the Genesis 15 statement that Abraham believed God, and it was counted to him as righteousness. (more…)
So another year has fled. The biggest event in 2016 for me was the passing of my mother in June. She was less than two months shy of her 90th birthday, and had not had a full awareness of things for several years, but nonetheless we felt great loss. But though we mourn, we do not do so as those who have no hope.
That passing did provide the context for one of the high points of my year, too. When I went home to Grande Prairie to bury Mom, through the kindness of the Nashville and Grande Prairie churches I was able to take my wife, oldest daughter, and three littles, and we had a time of great blessing. We drew heavily on the love of the saints and had a wonderful time with my sister and her two kids as well.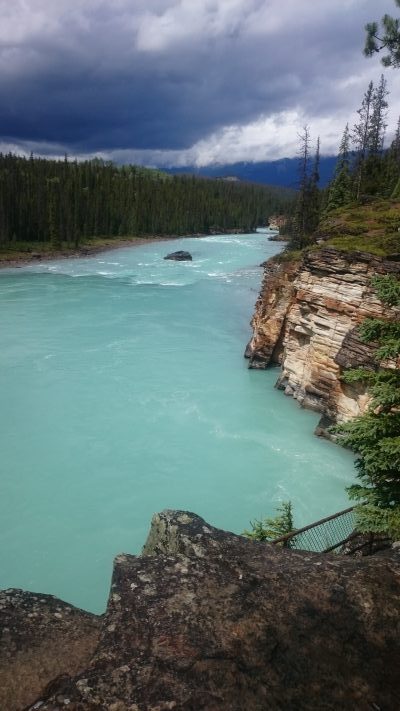 A mini high point of the Grande Prairie visit was a day trip with them, the Wattels (who were our hosts) and "Oma B" to the Jasper area. Although I have traveled through Jasper many times over the course of my life, I had never taken the time to stop and just enjoy it, and I always wanted to take Kristi there. So much beauty—I think I took about 150 pictures—and it was so good to share it.
Another high point of my year was the completion and release of The Legend of the Dagger Prince, a novel that I had first envisioned and commenced in 2012. While it has not been a big seller, I can honestly say that I'm very pleased with how it turned out, and hope that over time more people will come to appreciate it.
In October, I got to take Kristi to the Ryman (the original Opry venue) for a Kansas concert. It's not the sort of thing I get to do often at all, and we both really enjoyed it. It was the 40th Anniversary tour of Kansas' Leftoverture album, as well as the first tour for their new album. While Steve Walsh retired a few years ago, the new vocalist, Ronnie Platt, was an excellent choice: he's the right generation and has the right range, but his timbre and phrasing is different, so he avoids the trap of imitation.
Work-wise, I continue to work in the hospitality industry as a valet captain and am supposed to commence managerial training soon. I also continue to maintain my web and graphic business, Tim Gallant Creative; my biggest project in 2016 was the revamp of the CREC denominational web site.
Another even bigger web project, albeit not for a client, was the launch of the News Mutt site in early November. It was an idea I had toyed with for several years, and a slow patch with clients allowed me to give it a shot. It's a tremendous amount of work to maintain, so I really need to build a good sized readership in order for the site to be viable long term, but I think there's room for the niche: It's a general news site that focuses on easy-to-read short summaries, and also keys on matters of interest to Christians. I'm trying to provide something that has a sound approach to news while also questioning mainstream media where I think it's appropriate.
I also engage in preaching ministry when opportunity presents. Along with preaching at the wedding of Caleb and Lydia Strebchuk in Grande Prairie at the beginning of the year, and then again at the G. P. church when I returned for Mom's funeral, I have preached several times at my home church in south Nashville, as well as a small Christian Reformed Church nearby.
Please continue to pray for all of us, that Kristi and I would meet the challenges of faithfully raising our large family, that all of our needs would be supplied, and that in particular, somehow we could improve our housing situation. (We had been hoping to buy this past spring, but my U.S. credit rating had not been sufficiently built up. I had a very good rating in Canada, but unfortunately, that doesn't follow across the border, which I didn't realize for the first couple years I was here.)
UPDATE: I got back into Facebook on December 20. No real explanation that made sense was provided regarding the issue.
Just a quick note for those who follow me on Facebook: My Facebook account has been disabled/blocked to me since December 12. The ostensible reason is that they could not verify that I was using my genuine identity, or had multiple accounts. (Neither are true.)
The instructions indicated that I should upload a scan of a government-issued photo ID with the sensitive information (ID number and address) blocked out. I did that, but it's been four days and I am still blocked until they have "reviewed my ID." It seems odd that it takes them that long to look at a photo of a driver's license.
While my Facebook account uses my personal identity, I do use a pseudonym (Anderson Alexander) on News Mutt, although that really has nothing to do with my Facebook identity, and in any case, I identify myself by name on the Anderson Alexander page on the site.
I'm excited to announce that today I launched a news digest site called News Mutt. The idea was a long time coming; in fact, I had registered a different domain several years ago.
The concept of News Mutt grew from a combination of inspiration from and frustration with other news sites. Unlike Drudge Report, I wanted something more balanced and offering actual story summaries rather than just links. Most other non-mainstream sites are too sensationalistic, and of course the mainstream news media reflects a very heavy leftward bias.
Consequently, I developed a vision to build a site that would appeal to people with limited time, but whose interests included looking at things from a historically Christian faith perspective and the love of liberty.
Due to the extreme ongoing time commitment of this project, the site will be monetized by ads, but I'm trying to maintain a good balance so that they are not overly intrusive.
It should be noted that at this point the publisher name in News Mutt's footer is Anderson Alexander. I chose a pseudonym (basically, a "pen name"), not because I want to remain anonymous (I'm advertising here that it's me, after all), but because I also write biblical studies/theology as well as fiction. Using another name helps me separate the "brands": my main stuff is published under Tim Gallant, fiction under T. A. Gallant, and now the journalistic stuff under Anderson Alexander. I'm not entirely sure if I'll stick with that, but we'll see how it goes.
For what it's worth, I chose Anderson Alexander because Anderson was my Dad's biological father's last name; Alexander was my Mom's maiden name.
Matthew 18 is a series of portraits of grace: the grace to those who humble themselves as children, the parable of the lost sheep, and the parable of the unforgiving servant, with its attendant call to forgive our brothers 70×7 times. It also includes a warning against putting a stumbling block in front of other people (which is not at all the same as the modern notions regarding "being offensive"; rather, it is about not being the occasion of tempting others to sin).
In the midst of this is a short passage that, if considered carefully, provides discomfort for various Christians. I am referring in particular to vv 15–20, which in some Bibles comes under the heading "If Your Brother Sins Against You."
The little passage is uncomfortable for those who pretend the Church has no authority, who think "Judge not, lest you be judged" means accepting everyone no matter what they do. In these verses, Jesus gives the Church the authority of binding and loosing, so that the impenitent are set outside the Church, with the promise that such activity will be ratified in heaven. All of that implies, of course, that the Church is supposed to exercise discipline. It implies that there is such a thing as sin, and more importantly, that recalcitrance (an insistence upon maintaining wrongdoing; a refusal to be corrected) is grounds for expulsion.
But the details of the passage also prove problematic for those who like to think of these verses as outlining "the steps of discipline," which in fact is simply not true. (more…)
Other Sites
biblical:
---
literary:
---
musical:
---
design:
---
public: