Blog
Reflections on the Man-made Climate Change Discussion
I do not frequently write about the perceived climate crisis.
There are numerous reasons for that. I am not a science buff, much less a scientist.
Moreover, I don't have time to write all the things I really want to write. There are books in biblical studies and novels residing in my head, along with numerous shorter pieces, and they await me impatiently: I frankly have little time to write at this stage of my life.
Aside from that, the climate issue is a polarizing debate, and it's not necessarily the discussion I want to serve as the cause of alienation.
Nonetheless, I am writing now in spite of it all. I am not presenting myself as an expert in climate science, nor am I primarily interested in putting forward expert expositions of others defending competing scientific viewpoints. My curation would surely be inadequate for such a task.
My aim here is to approach things from another angle. (Although I do want to come back — and who would not? — to the wonderfully scientific subject of cow farts, attributed with being responsible for more greenhouse gas [!] emissions than "cars, planes and all other forms of transport put together.") The reason I am willing to risk such a polarizing discussion is that biblical reflection is at the heart of my calling, and the crisis of the times virtually demands at least a bit of such reflection. So here it is, very briefly.
A Brief History of Experts: A Firsthand Nutshell Account

The full decade within which my childhood occurred was the 1970s. When I was child, I distinctly remember two things which the experts were telling us.
The medical science experts were telling us how bad breastfeeding was, and that concocted formulas were healthier for babies than their own mothers' milk.
And throughout the decade, climate experts were warning us of an impending ice age. (You may have seen the Photoshopped covers of Time magazine; but make no mistake, the stories were real, as is witnessed by this Time archive as an example.
For much of my lifetime, the medical community almost universally assumed that consumption of saturated fat led to obesity and heart disease.
In the 1980s, health experts were warning us that AIDS was going to kill huge swaths of the (heterosexual) population.
By 1990, the climate scientists had taken the pendulum ride: in place of an impending ice age was the momentous threat of impending global warming.
Throughout that same decade, tech experts warned us of the catastrophic effects the turn of the millennium would bring with it, because so much core civil infrastructure was based on computing that had failed to prepare for the year 2000. Yes, the "Y2K" debacle.
I have learned two things over the course of my life. (Okay, perhaps more than two, but these two are particularly pertinent in the context of our current discussion.)
One, the experts are frequently wrong — catastrophically and uncategorically so. (For a sampling of failed ecological predictions, for example, see this page.)
And second, the world seems to instinctively lean toward a secularized apocalypticism—a notion of a world-shattering event coming up fast on the event horizon. And more often than not, that apocalyptic vision is tied to attempts to meet the challenge by governments wresting absolute power, thus saving the day. Every apocalyptic vision, it seems, needs a savior.
But This Time Is Different (?)
Despite the failures of the previous apocalyptic visions, there is a desperate push to act against man-made climate change "before it's too late." Yet despite the fact that worldwide efforts to mitigate the disaster have been only a fraction of what the experts said was required, early prognostications have by and large proven false. (Just one example: In 2004, experts predicted that major European cities would be underwater by 2020. Time is running out.…)
But like the dispensationalist preachers predicting the rapture, failed predictions have proven no disincentive; there are always more dire predictions to be made.
I am no expert in climate science, but I can't help feel that somebody is at least exaggerating.
It is also not lost on me that the tech experts of the 1990s knew infinitely more regarding their subject than the most brilliant climate scientists know of theirs.
That's not a denigration of climate scientists, but a reminder that computer infrastructure is wholly man-made and therefore actually intrinsically knowable by tech experts. And yet, the fact was that "Y2K" ended up being an utter fiasco for many of them.
In comparison to technological experts, natural scientists know a miniscule fraction of their subject, because creation has its source in the infinite mind and inscrutable wisdom of God and not the minds of men, and we have barely begun to probe its mysteries. Is it so strange to think that natural scientists not only do not account for all the data they have available to them now, they almost certainly do not have all the data they would actually need in order to understand and predict long-term climate patterns? These are legitimate questions, even were the track record not so … spotty, shall we say.
The Earth is the Lord's
The bigger perspective is that the earth is Yahweh's. Now there are many sides to that, and one corollary is indeed that we should treat it with respect and care. Yahweh's earth is the gift of home, and as I wrote in Metanarrative (p 8),
All that God has already created is given to this man and this woman. The biblical terminology is indeed dominion, which of course gets a pretty bad rap, because it's popularly taken to mean selfish pillaging.
But that's the wrong picture. When God presented the man and the woman with the world he had created, he was giving them the keys to their home.
When you think home, do pillage and plunder come to mind? Surely not. You likely want to make the most of it, yes, but you do so by looking after it, by making it everything it can be. That's how you treat your home.
In view of this, we should indeed care about the earth. We should indeed minimize pollution. As those who look forward to a new heavens and new earth, in which righteousness dwells, the appropriate way to lean into that promised future is to live as stewards of the earth that is now. It certainly is possible to harm our environment, and we can see countless instances of that. The faithful Christian response is to minimize that harm.
At the same time, we must resist the temptation toward primitivistic utopianism. The goal of God's story is not a return to an unpopulated Eden, but the unveiling of a New Jerusalem teeming with people, and adorned with the various ways in which they have glorified the creation for the glory of its maker.
Human stewardship of the earth is delegated by God and forward-looking, but in this age human stewardship always involves tradeoffs. I suspect that on this side of glory, we are probably quite unable to come up with an absolutely unmitigated good.
Consider, for example, the explosion of food production that the earth has seen since the Industrial Revolution. More people have been raised out of starvation in the past two hundred years than ever before.
And yet some of those same advances have brought problems: after thousands of years eating bread, suddenly we are developing "gluten intolerances" (more likely: reactions to how wheat is now processed). We are discovering all sorts of accompanying issues with our advances.
Whether or not that is the most apt example, the point is that human development is always flawed and always has downsides.
The development of industrial means of travel has enabled unprecedented access to health care, communities and more. It has also has been the occasion of countless accidents causing death and injury, as well as serious property damage.
As Adam was told after his rebellion, he still retained his calling to till the ground, but now it would resist his efforts and he was going to sweat until he died in order to fulfill that calling.
But the calling remains a gift, and the gift is a mandate, both to exercise faithful dominion over the earth, and to act on behalf of its wellbeing.
Above and beyond this delegated human calling is the sovereign creator and sustainer. In his covenant with Noah, he promised that seedtime and harvest, cold and heat, summer and winter, and day and night would not cease (Gen 8:22). It is he who establishes the boundaries of the earth and makes summer and winter (Ps 74:17). He has fixed the patterns of heaven and earth, rain and harvest (Jer 5:24; 33:25).
In the face of every competing apocalyptic vision, the believer confesses: "I fear not, for I belong to the Lord of the heavens and the earth." The shrill threat of climate change is answered by the Living One's enduring promise of climate continuity, of the fundamental stability of creation until he himself renews everything as he has purposed.
Utopian visions and apocalyptic visions both are poor substitutes for the gospel's affirmation of the creation, its adoration of the world's creator and sustainer, its exaltation of the Lordship of Jesus the Messiah, its real world implementation of the kingdom, and its anticipation of a graciously given new heavens and new earth.
Conclusion
So what about those cow farts?
It seems clear to me that the owner of the cattle on a thousand hills is not destroying his creation by virtue of that very ownership. It is much more likely that cow farts are a feature of his wise governance rather than a demonstration of divine destruction.
We confess that the earth is the Lord's. He set his colorful bow in the sky as a promise to all of us that the world will never again be destroyed by a flood. I think it no leap to take that to mean that, not only will he not destroy the world with rain that he himself sends, but he will not allow us to destroy it by causing the tides to rise.
In the final analysis, the earth is sustained, not by us, but by the living God who created it.
In Romans, Paul has an extended development of the idea of slavery and liberation—fundamentally, an exodus theme. In the midst of that development, he writes in Romans 8:12 that we are debtors—not to the flesh, to live after the flesh.
That cryptic statement in context raises questions. Is this is a simple negation ("we are not debtors to the flesh"), a denial with an unspoken corresponding affirmation of where our debt genuinely rests ("we are not debtors to the flesh, but to the Spirit"), or perhaps an emphatic statement about a new situation that was previously not the case ("we are no longer debtors to the flesh")?
Perhaps Paul doesn't want us to answer the implicit question in just one of these ways; perhaps he wants us to acknowledge the truth of some or all of these ways of reading his statement.
It is interesting, though, to trace the idea of debtorship in connection with Paul's theme of slavery. Under the social and de facto legal conditions of Paul's world and Israel's history, one could be sold into slavery for one's debts, and was therefore bound to serve the creditor. That seems to shed some light on Paul's argument in much of Romans 5–8, not least 6–7. (more…)
Wright suggests that in Romans 6, "righteousness" (dikaiosune) is a virtual proxy for God himself. In extensive use in chapter 3, "the righteousness of God" (dikaiosone theou) refers to God's covenant faithfulness, and much of Romans 3–8 has an underlying narrative substructure of exodus—a transition from slavery to freedom. But then, 6:18 speaks of "slaves of righteousness." Here's Wright: (more…)
In his article, "Romans and the Theology of Paul" (reprinted most recently in Pauline Perspectives), N. T. Wright emphasizes that the narrative of Paul's letter to the Romans is keyed to the story of Israel, seen within the light of Jesus as the Messiah. This is a crucial point that is often overlooked, but in a number of places, I think he takes wrong turns or doesn't quite get the grasp of the handle in the right place.
For example, in regard to Israel's "fall" of which Paul speaks, Wright frequently notes that Israel was called to be a light to the nations and she failed, largely because of pride in covenantal position.
It has been quite popular for some time now for people to engage in moral/ethical argument on the basis of what year it is ("It's 2017.…") or its sister argument ("the flow of history/right side of history").
I haven't decided whether such people really don't realize how stupid the form of argument is, or whether they actually do, but are so cynical they use it anyway. It doesn't seem nice to impute that level of obtuseness, but on the other hand, it's not exactly complementary to impute that level of cynicism either.
If you want to see how frivolous the form of argument is, simply use it with reference to mindsets and attitudes in the past which we now denigrate. For example, the early twentieth century had an extraordinarily high regard for race-based eugenics, not only in Germany, but (sad to say) in much of the West, including the "free democracies," especially among the intelligentsia. (Of course, this is now largely swept under the carpet.) (more…)
As I've planned for quite a while, I have finally made my Tim Gallant Anthology songs available for free download on this site.
These are collections that I recorded back in the mid-2000s, but were written much earlier. I used to (try to) sell them, but ultimately decided that music was never going to be an income stream, and I would much rather have the occasional person enjoy some of it than to have the songs collecting dust.
The present anthologies available are Vol 1: 1980–1983 (The Early Years); Vol 2 (1984); and Vol 3 (1985). I was born at the end of 1965, so you can do the math regarding my age when the songs were written. 🙂
When we correlate Genesis 15, Genesis 22, Romans 4, and James 2, we will come to understand that there is no tension whatsoever between Paul's view of faith and works over against that of James. Both appeal to how Abraham's faith in Genesis 15 is accounted for righteousness, but both in fact go beyond that.
Like Paul, James affirms that Abraham's faith in Yahweh's promise was counted as righteousness (i.e. in Genesis 15, when God made the initial promise of seed). He affirms that within the framework of stating that Abraham was justified by works when he offered up Isaac on the altar (Gen 22, frequently referred to as the akedah). The point he makes is that the faith of Abraham (which Yahweh counted as righteousness) was active, and that it was completed by action. The offering of Isaac, says James, fulfilled the Genesis 15 statement that Abraham believed God, and it was counted to him as righteousness. (more…)
So another year has fled. The biggest event in 2016 for me was the passing of my mother in June. She was less than two months shy of her 90th birthday, and had not had a full awareness of things for several years, but nonetheless we felt great loss. But though we mourn, we do not do so as those who have no hope.
That passing did provide the context for one of the high points of my year, too. When I went home to Grande Prairie to bury Mom, through the kindness of the Nashville and Grande Prairie churches I was able to take my wife, oldest daughter, and three littles, and we had a time of great blessing. We drew heavily on the love of the saints and had a wonderful time with my sister and her two kids as well.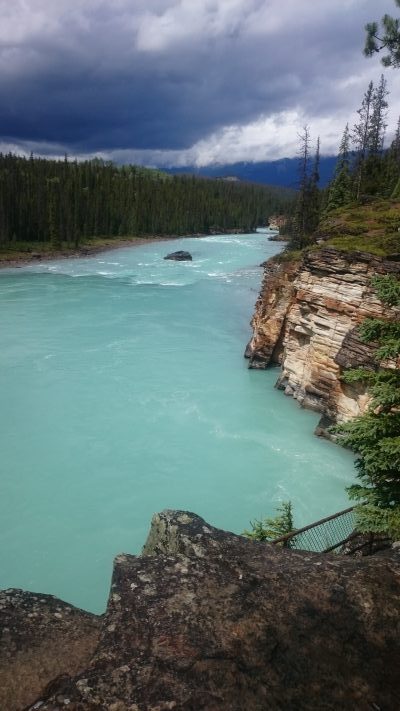 A mini high point of the Grande Prairie visit was a day trip with them, the Wattels (who were our hosts) and "Oma B" to the Jasper area. Although I have traveled through Jasper many times over the course of my life, I had never taken the time to stop and just enjoy it, and I always wanted to take Kristi there. So much beauty—I think I took about 150 pictures—and it was so good to share it.
Another high point of my year was the completion and release of The Legend of the Dagger Prince, a novel that I had first envisioned and commenced in 2012. While it has not been a big seller, I can honestly say that I'm very pleased with how it turned out, and hope that over time more people will come to appreciate it.
In October, I got to take Kristi to the Ryman (the original Opry venue) for a Kansas concert. It's not the sort of thing I get to do often at all, and we both really enjoyed it. It was the 40th Anniversary tour of Kansas' Leftoverture album, as well as the first tour for their new album. While Steve Walsh retired a few years ago, the new vocalist, Ronnie Platt, was an excellent choice: he's the right generation and has the right range, but his timbre and phrasing is different, so he avoids the trap of imitation.
Work-wise, I continue to work in the hospitality industry as a valet captain and am supposed to commence managerial training soon. I also continue to maintain my web and graphic business, Tim Gallant Creative; my biggest project in 2016 was the revamp of the CREC denominational web site.
Another even bigger web project, albeit not for a client, was the launch of the News Mutt site in early November. It was an idea I had toyed with for several years, and a slow patch with clients allowed me to give it a shot. It's a tremendous amount of work to maintain, so I really need to build a good sized readership in order for the site to be viable long term, but I think there's room for the niche: It's a general news site that focuses on easy-to-read short summaries, and also keys on matters of interest to Christians. I'm trying to provide something that has a sound approach to news while also questioning mainstream media where I think it's appropriate.
I also engage in preaching ministry when opportunity presents. Along with preaching at the wedding of Caleb and Lydia Strebchuk in Grande Prairie at the beginning of the year, and then again at the G. P. church when I returned for Mom's funeral, I have preached several times at my home church in south Nashville, as well as a small Christian Reformed Church nearby.
Please continue to pray for all of us, that Kristi and I would meet the challenges of faithfully raising our large family, that all of our needs would be supplied, and that in particular, somehow we could improve our housing situation. (We had been hoping to buy this past spring, but my U.S. credit rating had not been sufficiently built up. I had a very good rating in Canada, but unfortunately, that doesn't follow across the border, which I didn't realize for the first couple years I was here.)
UPDATE: I got back into Facebook on December 20. No real explanation that made sense was provided regarding the issue.
Just a quick note for those who follow me on Facebook: My Facebook account has been disabled/blocked to me since December 12. The ostensible reason is that they could not verify that I was using my genuine identity, or had multiple accounts. (Neither are true.)
The instructions indicated that I should upload a scan of a government-issued photo ID with the sensitive information (ID number and address) blocked out. I did that, but it's been four days and I am still blocked until they have "reviewed my ID." It seems odd that it takes them that long to look at a photo of a driver's license.
While my Facebook account uses my personal identity, I do use a pseudonym (Anderson Alexander) on News Mutt, although that really has nothing to do with my Facebook identity, and in any case, I identify myself by name on the Anderson Alexander page on the site.
I'm excited to announce that today I launched a news digest site called News Mutt. The idea was a long time coming; in fact, I had registered a different domain several years ago.
The concept of News Mutt grew from a combination of inspiration from and frustration with other news sites. Unlike Drudge Report, I wanted something more balanced and offering actual story summaries rather than just links. Most other non-mainstream sites are too sensationalistic, and of course the mainstream news media reflects a very heavy leftward bias.
Consequently, I developed a vision to build a site that would appeal to people with limited time, but whose interests included looking at things from a historically Christian faith perspective and the love of liberty.
Due to the extreme ongoing time commitment of this project, the site will be monetized by ads, but I'm trying to maintain a good balance so that they are not overly intrusive.
It should be noted that at this point the publisher name in News Mutt's footer is Anderson Alexander. I chose a pseudonym (basically, a "pen name"), not because I want to remain anonymous (I'm advertising here that it's me, after all), but because I also write biblical studies/theology as well as fiction. Using another name helps me separate the "brands": my main stuff is published under Tim Gallant, fiction under T. A. Gallant, and now the journalistic stuff under Anderson Alexander. I'm not entirely sure if I'll stick with that, but we'll see how it goes.
For what it's worth, I chose Anderson Alexander because Anderson was my Dad's biological father's last name; Alexander was my Mom's maiden name.
Other Sites
biblical:
---
literary:
---
musical:
---
design:
---
public: