Blog
So another year has fled. The biggest event in 2016 for me was the passing of my mother in June. She was less than two months shy of her 90th birthday, and had not had a full awareness of things for several years, but nonetheless we felt great loss. But though we mourn, we do not do so as those who have no hope.
That passing did provide the context for one of the high points of my year, too. When I went home to Grande Prairie to bury Mom, through the kindness of the Nashville and Grande Prairie churches I was able to take my wife, oldest daughter, and three littles, and we had a time of great blessing. We drew heavily on the love of the saints and had a wonderful time with my sister and her two kids as well.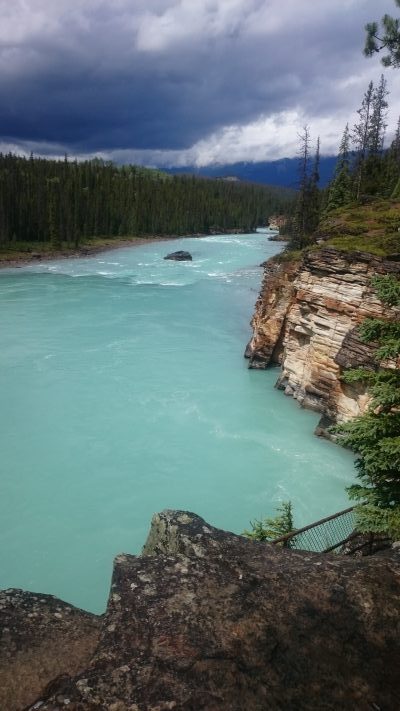 A mini high point of the Grande Prairie visit was a day trip with them, the Wattels (who were our hosts) and "Oma B" to the Jasper area. Although I have traveled through Jasper many times over the course of my life, I had never taken the time to stop and just enjoy it, and I always wanted to take Kristi there. So much beauty—I think I took about 150 pictures—and it was so good to share it.
Another high point of my year was the completion and release of The Legend of the Dagger Prince, a novel that I had first envisioned and commenced in 2012. While it has not been a big seller, I can honestly say that I'm very pleased with how it turned out, and hope that over time more people will come to appreciate it.
In October, I got to take Kristi to the Ryman (the original Opry venue) for a Kansas concert. It's not the sort of thing I get to do often at all, and we both really enjoyed it. It was the 40th Anniversary tour of Kansas' Leftoverture album, as well as the first tour for their new album. While Steve Walsh retired a few years ago, the new vocalist, Ronnie Platt, was an excellent choice: he's the right generation and has the right range, but his timbre and phrasing is different, so he avoids the trap of imitation.
Work-wise, I continue to work in the hospitality industry as a valet captain and am supposed to commence managerial training soon. I also continue to maintain my web and graphic business, Tim Gallant Creative; my biggest project in 2016 was the revamp of the CREC denominational web site.
Another even bigger web project, albeit not for a client, was the launch of the News Mutt site in early November. It was an idea I had toyed with for several years, and a slow patch with clients allowed me to give it a shot. It's a tremendous amount of work to maintain, so I really need to build a good sized readership in order for the site to be viable long term, but I think there's room for the niche: It's a general news site that focuses on easy-to-read short summaries, and also keys on matters of interest to Christians. I'm trying to provide something that has a sound approach to news while also questioning mainstream media where I think it's appropriate.
I also engage in preaching ministry when opportunity presents. Along with preaching at the wedding of Caleb and Lydia Strebchuk in Grande Prairie at the beginning of the year, and then again at the G. P. church when I returned for Mom's funeral, I have preached several times at my home church in south Nashville, as well as a small Christian Reformed Church nearby.
Please continue to pray for all of us, that Kristi and I would meet the challenges of faithfully raising our large family, that all of our needs would be supplied, and that in particular, somehow we could improve our housing situation. (We had been hoping to buy this past spring, but my U.S. credit rating had not been sufficiently built up. I had a very good rating in Canada, but unfortunately, that doesn't follow across the border, which I didn't realize for the first couple years I was here.)
UPDATE: I got back into Facebook on December 20. No real explanation that made sense was provided regarding the issue.
Just a quick note for those who follow me on Facebook: My Facebook account has been disabled/blocked to me since December 12. The ostensible reason is that they could not verify that I was using my genuine identity, or had multiple accounts. (Neither are true.)
The instructions indicated that I should upload a scan of a government-issued photo ID with the sensitive information (ID number and address) blocked out. I did that, but it's been four days and I am still blocked until they have "reviewed my ID." It seems odd that it takes them that long to look at a photo of a driver's license.
While my Facebook account uses my personal identity, I do use a pseudonym (Anderson Alexander) on News Mutt, although that really has nothing to do with my Facebook identity, and in any case, I identify myself by name on the Anderson Alexander page on the site.
I'm excited to announce that today I launched a news digest site called News Mutt. The idea was a long time coming; in fact, I had registered a different domain several years ago.
The concept of News Mutt grew from a combination of inspiration from and frustration with other news sites. Unlike Drudge Report, I wanted something more balanced and offering actual story summaries rather than just links. Most other non-mainstream sites are too sensationalistic, and of course the mainstream news media reflects a very heavy leftward bias.
Consequently, I developed a vision to build a site that would appeal to people with limited time, but whose interests included looking at things from a historically Christian faith perspective and the love of liberty.
Due to the extreme ongoing time commitment of this project, the site will be monetized by ads, but I'm trying to maintain a good balance so that they are not overly intrusive.
It should be noted that at this point the publisher name in News Mutt's footer is Anderson Alexander. I chose a pseudonym (basically, a "pen name"), not because I want to remain anonymous (I'm advertising here that it's me, after all), but because I also write biblical studies/theology as well as fiction. Using another name helps me separate the "brands": my main stuff is published under Tim Gallant, fiction under T. A. Gallant, and now the journalistic stuff under Anderson Alexander. I'm not entirely sure if I'll stick with that, but we'll see how it goes.
For what it's worth, I chose Anderson Alexander because Anderson was my Dad's biological father's last name; Alexander was my Mom's maiden name.
Matthew 18 is a series of portraits of grace: the grace to those who humble themselves as children, the parable of the lost sheep, and the parable of the unforgiving servant, with its attendant call to forgive our brothers 70×7 times. It also includes a warning against putting a stumbling block in front of other people (which is not at all the same as the modern notions regarding "being offensive"; rather, it is about not being the occasion of tempting others to sin).
In the midst of this is a short passage that, if considered carefully, provides discomfort for various Christians. I am referring in particular to vv 15–20, which in some Bibles comes under the heading "If Your Brother Sins Against You."
The little passage is uncomfortable for those who pretend the Church has no authority, who think "Judge not, lest you be judged" means accepting everyone no matter what they do. In these verses, Jesus gives the Church the authority of binding and loosing, so that the impenitent are set outside the Church, with the promise that such activity will be ratified in heaven. All of that implies, of course, that the Church is supposed to exercise discipline. It implies that there is such a thing as sin, and more importantly, that recalcitrance (an insistence upon maintaining wrongdoing; a refusal to be corrected) is grounds for expulsion.
But the details of the passage also prove problematic for those who like to think of these verses as outlining "the steps of discipline," which in fact is simply not true. (more…)
I posted about the release of The Legend of the Dagger Prince a few hours ago.
Here's the book trailer.
This book is the first occasion I've had (or taken, at any rate) to do a book trailer, and I think it turned out pretty well!
Book launch! My first title in the medievalesque fantasy series Annals of Adamah is called The Legend of the Dagger Prince. It just released!
Buy it on Amazon ( http://www.amazon.com/dp/0997244704 ) or elsewhere online, or check out more details here:
http://timotheospress.com (Be sure to sign up for my email list while you're there!)
In 1 Corinthians 15, the Apostle Paul identifies the resurrection as one of the cornerstone truths of the Christian faith. Along with the Messiah's death "for our sins," he identifies the resurrection with "the gospel" (1 Cor 15:1–4). He even goes so far as to say that if the Messiah has not risen, we believers are of all men most pitiable (v 19); indeed, we are still in our sins (17) and our faith is vain (14).
But why? Isn't the resurrection just a proof of the deity of Christ? Is it really necessary for us?
Much in every way.
We see why this is so when we understand Romans 4:25, which says (literally) that Jesus our Lord was "delivered up for our trespasses, and was raised because of our justification."
We like to talk about Jesus' death as representative—carried out on our behalf. But that representative death by itself is an enactment of condemnation. (This is why the concept of substitution, while valuable, cannot carry within itself the whole significance of Christ's work.)
It is Jesus' resurrection that constitutes His vindication in the face of the condemnation against Him and us. In other words, His justification, which is why in 1 Timothy 3:16 Paul writes that God was "manifest in the flesh, justified by (Greek en) the Spirit, seen of angels, proclaimed to the Gentiles, believed on in the world, received up into glory."
This is why if Jesus died but did not rise, we are still in our sins. If the representative Man was not justified, neither are the represented men. If the representative death did not issue in representative resurrection, then death and only death is rightly ours.
The resurrection is not simply a sign of the glory of Christ. It is that, of course—it is in response to it that James blurts out, "My Lord and my God!"
But it is more than that.
It is our hope.
Occasionally, I run into discussions regarding paedocommunion. Well over a decade ago, I wrote an entire book devoted to a reasonably comprehensive treatment of this subject. I also have written extensively at paedocommunion.com. There are always those though who are unwilling to read an entire book, and do not really want to track down articles here and there. So in response to one online discussion in particular, I am offering here a few brief observations and responses to sundry objections.
I have referred to the inclusion of children in old covenant communal meals, but it has been objected that these varied widely and had different criteria for participation. They certainly did vary, and there were some differences in terms of critera for participation. (Passover, for example, required circumcision, whereas it appears that at least some other meals did not, and where thus open to believing Gentiles.) But even conceding that, it would be pretty difficult to refer to any instance where age was ever a criterion.Much more importantly, though, is the fact that the old covenant communal meals which are most closely tied to the Lord's Supper by the New Testament most certainly did include children. The manna and water in the wilderness are clear antecedents to the Lord's Supper in 1 Corinthians 10, and children partook of those. And contrary to Calvin, Passover included the little ones of Israel; the so-called catechetical question of Exodus 12:26 (roughly translated as "What is this service to you?") was never presented as a preliminary to obtaining the right of access. The youngest of firstborn sons who were saved by the Passover partook of the same.
When I speak of the antiquity of paedocommunion in the Church, I do so, not to prove the correctness of the position, but to show that it is no novelty. It is also to be stressed that the casual way in which Cyprian refers to paedocommunion presupposes a widespread practice. Were he offering an apologetic, we could wonder if he was arguing for something that most people opposed, but in fact that is not the case. (See the quotations here.) Rather he assumes that little ones in their parents' arms are partaking of the Lord's bread and cup; and that a child too young to communicate her experiences has her "turn" to partake of the eucharist. This is not the sort of evidence to be expected from an "outlier."
Despite its misuse at the hands of opponents of paedocommunion, 1 Corinthians 11 as a whole stands in support of paedocommunion rather than in tension with it. The matter of discerning the body, in context, refers to the disunity and lack of solidarity at the table of the Lord (see 11:18–22). (For more on 1 Cor 11:29, see my article here.)Unlike the anti-paedocommunion usage of 1 Cor 11, proper interpretation involves an understanding of how the concepts and terminology belong in a context that stretches at least as far back as 9:27. There, Paul refers to his own spiritual self-discipline that he undertakes, "lest after having preached to others, I myself should be disqualified." The term he uses there is adokimos, which is a privative noun directly related to the verb used in 11:28 (frequently translated, somewhat misleadingly as "examine"). It has to do, not with cognitive reflection but with covenantal testing. If one becomes adokimos, that means that he has broken covenant and is no longer counted among the righteous.This is why Paul immediately proceeds from contemplating the possibility of his own becoming adokimos to discuss the failure of Israel in the wilderness; and it is precisely there where he introduces the Lord's Supper and the background typology of the baptism through the Sea followed by bread and water in the wilderness. Despite participating in those blessings, Paul notes that a great number of them broke covenant through idolatry and sexual immorality, and therefore fell in the wilderness. Thus we are to take heed lest we likewise fall (10:12). What is falling, then? It is becoming adokimos.Now, note well, we could say that this taking heed is a "requirement" to continue participating in the sacraments. And since presumably small children cannot "take heed" in that fashion, they should not partake. But that of course is completely foreign to Paul's point. It was not the small children who fell in the wilderness; indeed, it was mostly those who were children who survived the wilderness and inherited the land, while their fathers were prohibited entry due to sin and unbelief.And so it is that when we arrive at the matter of proving ourselves (which is more to the point than "self-examination"), it is completely wrongheaded to say, "Aha! This proves that little children should not be participating in the Supper!" To the contrary, its meaning is along the same lines as 10:12, with the corollary that in the event we continue to stand by humble faith, and thus retain our dokimos status rather than falling and becoming adokimos.

The truth is that placing this in the realm of some sort of intellectual requirement is not only a form of Gnosticism (knowledge saves); it cuts directly counter to the immediate context of 1 Corinthians 11. Paul's concern is that the solidarity of the body be retained: one bread, one body (10:17), and consequently the divisions of 11:17—22 are in fundamental ways parallel to the sins of idolatry and sexual immorality by which Israel had fallen. But if that be the case, the refusal to commune children is simply to institutionalize schism within the body and to deny the one bread, one body principle of 10:17. (Note: for further discussion of the matters of "examination" and "remembrance" in 1 Cor 11, see my old article here. For in-depth lexical treatment of dokimazo, see Matthew Colvin's article here.)

Finally, it is repeatedly claimed that children lose nothing by being excluded from the Lord's Supper. This is simply false. Adults and children are not different in this regard, and in fact the community-making power of the Supper has more force for children than does any other aspect of the liturgy. Even when very small, they can instinctively know that they are included in the Church, even at a time when the sermon quite literally means nothing to them. (The meeting of Jesus with the two men on the road to Emmaus follows these lines. They remained blind even as He wondrously expounded the great scope of the Old Testament to them, but when He broke bread with them, their eyes were opened.)Yet even that is not my point, which reaches back further still. Paul does not say, "Because there is one bread, by thinking about the oneness of that bread, we who are many become one body." No, he says simply, "Because there is one bread, we who are many are one body, for we all partake of the one bread." It is the Eucharist that establishes the unity, not thinking about the Eucharist or its meaning. This is not to deny that thinking about the Eucharist is a good thing—but it is to deny the hyper-intellectualism that marks so much of Protestantism. It is to deny that the activity of God is all about the information He places between our ears.

As I have noted elsewhere, Jesus blessed the infants who were brought to Him. No doubt, many of them had no intellectual comprehension of what He was doing. If we were to treat that event like we so frequently treat the Lord's Supper, we must conclude that Jesus' blessing was not in a blessing for them, but an empty action. Not so. The power of the blessing was in the action of Christ Himself; and so it is with the Lord's Supper. This does not make the Lord's Supper "magical," any more than it makes Jesus' blessing of the little ones "magical." It just means that the grace of God is greater than our capacities.

That last observation brings me around to what I have not mentioned explicitly to this point: the matter of faith. One may object, "It's not a matter of intellectualism; it's a matter of faith." But if faith in your definition requires a certain development of intellectual capacity, you have rejected faith as described in Scripture. I fully agree that in a person who does not have cognitive limitations, as that person grows up faith will most certainly take on an intellectual dimension. But it is simply unbiblical to say what that should look like, and then make that retroactive, so that we can deny the existence of faith prior to that point. That is simply never how the Bible treats covenant children. Just as Jesus blessed the little ones without inquiring about their cognitive abilities, the Bible throughout includes children among the believing community. If we are not ready to grant that, we have a different religion. Justification is by faith (and therefore not by infancy or some supposed "innocence"), and therefore infant faith is every bit as viable and real as adult faith. Nay, more: "Of such is the kingdom of God," and the kingdom of God is nothing other than the reign of God received by faith; and therefore the only real faith is infant faith that happens to reside in people of all ages.
Friend, you call me an unenlightened and therefore unreasonable bigot because I ostensibly oppose "women's rights." But it is not reason that hinders you from seeing what is intrinsically obvious—that this unborn child is indeed a human being.
It is not reason that insists, "This is my body" or "A woman should be able to choose what she does with her body." It is not reason that affirms that a situation involving two sets of DNA (or indeed, just three weeks after conception, two hearts and two brains) is a situation involving one body. Very clearly, your rhetoric notwithstanding, we are speaking not of one body but two.
It is not reason that insists that personhood depends on moving a few inches down a birth canal, as if location were determinative of who and what you are.
It is not reason that insists that personhood depends on being able to be independent. That is at best a definition of adulthood, not of personhood.
It is not reason that insists that some purported right to forgo the inconvenience of childbearing should be considered more fundamental than the basic right to life itself. It is rather a special form of bigotry that places the former supposed "right" above the latter.
In all of these ways, you show that it is your position that is unreasonable and untenable; that is is you who are a bigot, ready to slaughter for your cause.
Yet I do not say you are stupid, but rather something much worse: your hardness of heart has made you blind. Stupidity perhaps could provide you some sort of excuse—but you are and will remain culpable for the horrors which you do and which you approve.
Men love darkness rather than light, Jesus said, and in the darkness is blindness. Come to Jesus, and find the hope of the world.
In cases such as the bakery in Oregon (Sweetcakes by Melissa), we have heard repeatedly that the problem is "discimination." This is then to be compared with the barring of "niggers" from eating establishments and other businesses back before the victories of the Civil Rights movement.
Trouble is, the analogy breaks down at the most fundamental level. (more…)